Overview
---
A compact breakaway that showcases the very best of ancient Egypt. Taking in the major highlights of Cairo and Luxor. From the legendary Pyramids of Giza and Egyptian Museum, to the tomb strewn Valley of the Kings in Luxor.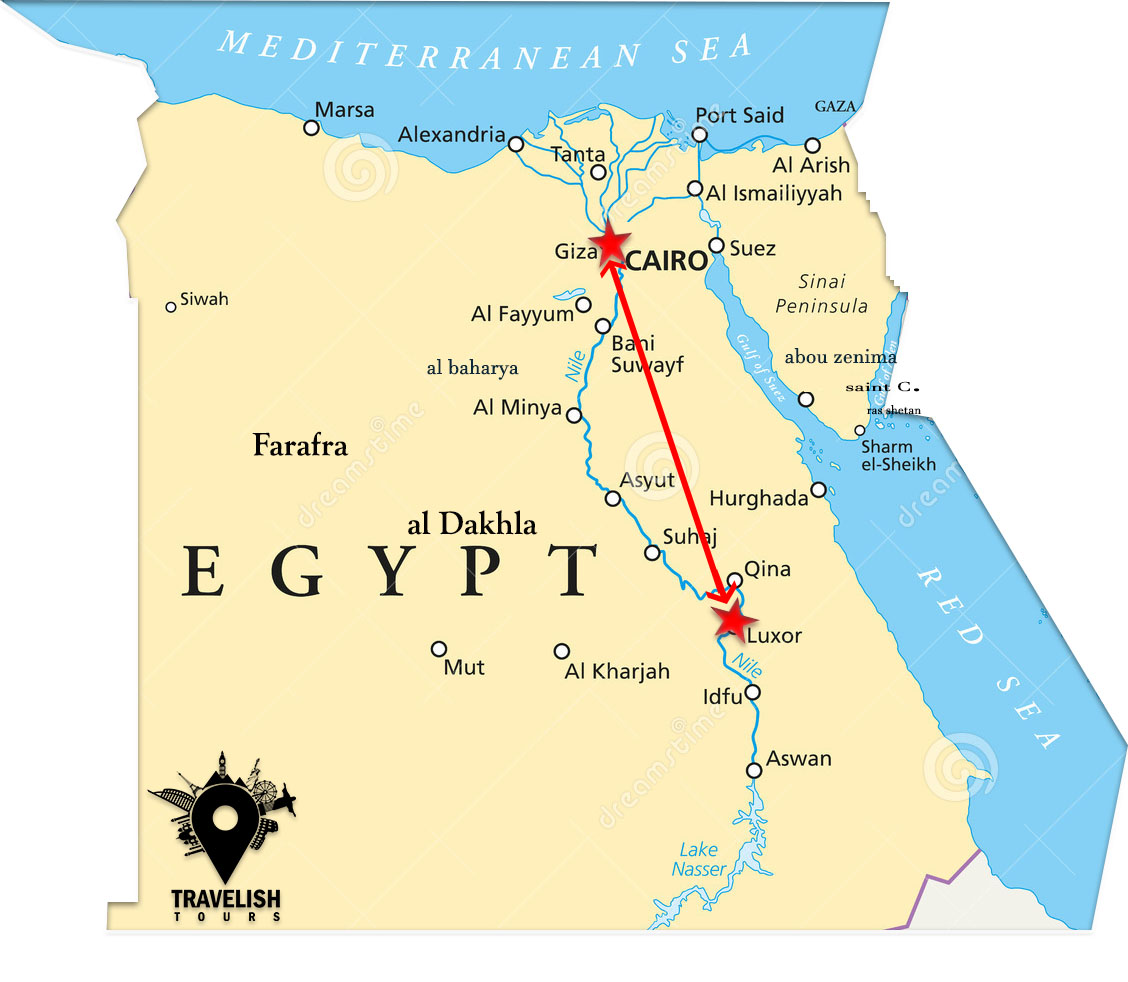 name:

Pharaohs Adventure packages between Cairo&luxor

Duration:

6 day
you will visit
---
Pyramids of Giza&Egyptian Museum,Valley of the Kings
ITINERARY
---
ITINERARY (Click To Show)
cairo
Day 1 Cairo
Your adventure in the land of pharaohs begins when you meet Travelish Tours representative with sign your name on it, who will assist you through the immigration and customs formalities. Then he will escort you by air-conditioned vehicle to your hotel for check in at your room and enjoy a good night's rest at one of the top quality hotels and prepare for your adventure to begin.
Day 2 Cairo Pyramids of Giza & Saqqara& Memphis
Cairo - Luxor. After you get breakfast at your hotel your private local guide will be waiting for you in the lobby of your hotel in the morning to pick you up and start the tour to the Giza plateau where the only remaining wonder of the Ancient World, the legendary Pyramids of Giza still stands. Although it is 2,000 years older than any other wonder on the list. Get excited by a panoramic view of the Pyramids of Khufu (Cheops), Chephren, and Mykerinus. Continue to explore the rest of Giza plateau including the beauty of iconic Sphinx, the largest statue on earth with 72 meters in length and 23 meters high. A stop at the Western Plateau affords great photo opportunities of the three Pyramids and the sprawling city of Cairo at the background. Then you will go to witness the Complex of Saqqara which belongs to King Djoser and his step pyramid which is considered the first pyramid in Egypt and the first rock-cut building by mankind in the history. It was built in the 3rd Dynasty (around 2630 BC). In the near distance you will also see the pyramid of king Titi, the pyramid of king Unas, and see the pyramids of Dahshur from a distance. Moving on towards Memphis" Old kingdom's first capital of Egypt .It was considered to be a center of rule and culture for over 3000 years, The Open Air Museum at Memphis is one of the "must see" sites in Egypt! Here you'll see the best and the biggest statue of king Ramses the second-16 meters high, the alabaster sphinx of Queen Hatshepsut. Egyptian Lunch will be served in a countryside restaurant with delicious organic food. This evening we travel by overnight sleeper train to Luxor.
Overnight: Sleeper Train | Breakfast
Day 3 Luxor
This morning we arrive into Luxor and check into our hotel. One of the world's greatest open-air museums, the 4000 year old site of ancient Thebes - known today as Luxor is our base for two exciting days of exploration. Enjoy some rest and relaxation. Tonight, visit to Temple of Luxor. The temple is magically illuminated by a thousand colored lights at night fall. Remainder of the evening at leisure with a chance to enjoy the facilities of our hotel.
Overnight: Luxor | Breakfast
Day 4 Valley of the Kings Luxor - Cairo.
Take flight over ancient Luxor with an optional hot air balloon ride early this morning before exploring the West Bank of the Nile and the legendary Valley of the Kings.(home of 65 tombs of the kings of 18th to 22nd dynasties) then Explore the magnificent Temple of Queen Hatshepsut and surrounding tombs. (She ruled over Egypt for 19 years as a king). Marvel at Colossi of Memnon, The massive pair of statues remains of the temple of Amenophis III. Returning to our hotel, we enjoy free time before visiting Karnak, More than a temple, a spectacular religious complex built on a gigantic scale, (the largest complex of temples in Egypt originally attached to Luxor temple by an avenue of sphinxes). This temple contains some remarkably preserved painted walls and many awe-inspiring pillars and obelisks, where you can lose yourself wandering around the stone papyrus columns. Egyptian Lunch will be served in a restaurant with delicious organic food. Tonight, we return to Cairo by overnight sleeper train.
Overnight: Sleeper Train | Breakfast. Launch
Day 5 Egyptian Museum &Khan El Khalili
Arrive to Cairo and hotel check-in. Later, Uncover the Pharaohs' glory with your Local Guide in the Egyptian Museum's amazing collection that includes the king Tutankhamen's treasure. Over 220,000 of masterpieces from ancient Egypt are presented; it is considered the largest most precious collection of Egyptian art in the world. Also there will be opportunity to see the royal mummies (optional). Proceed to Islamic medieval Cairo to see the ancient mosques, ancient streets of Cairo, houses and taking a walking tour in the 1000 years old "el Moez" street which is considered as an open air museum for Terrific Islamic Buildings which are decorated with different patterns and paints. Join your guide to a local restaurant to get your Egyptian lunch in down town with opportunity to walk in the down town streets and enjoy the beauty of City. And then at the end of the tour you will head to the exotic and colorful Khan El Khalili Cairo's old Bazaar, Egyptian souvenirs from ornate free-standing tobacco pipes and pharaohs tat, to belly dancing costumes and spices and carpets. A shopper's paradise and a photographer's dream come true here. Finish your tour with a well-worth cup of Egyptian mint tea, tea or coffee in El-Fishawy famous coffee house the oldest in Cairo. You will find coffeehouses "Café" serving Arabic coffee and offering Hookah "Shisha". Finally and at the end of the day you will move to your hotel for the overnight.
Overnight: Cairo | Breakfast, launch
Day 6 Cairo
After breakfast. Transfer you to Cairo airport for your final departure carrying great memories from Egypt to cherish and unforgettable nice feeling of being in this old country.


inclusions
---
• Tours and meals as described above.
• Services of local English speaking guide during the tours and visits.(specialist in Egyptology).
• All Taxes and services are including (no Hidden cost).
• All tours and Transportation by luxury A/C vehicles with a professional driver.
• Pickup and drop-off services.
• Customer services available 24 hours a day, 7 days a week.
• Free Sim Card (please reserve to receive it upon arrival).
• Entrance fees to all the sites above.
• Free WiFi internet access during tours.
• Bottled water during your tours and transfers.
• All Accommodation.


exclusion
---
• Any optional excursions not included, like sound and light show and dinner cruise, etc.
• Visa entry to Egypt.
• International flight tickets.
• Gratuities (tipping to the guide, driver, hotels, cruises, etc)
• Any extras not mentioned in the itinerary
• Drinks from any kind other than a bottle of mineral water .75 liter.
• Personal spending


extra
---
Extras optional not included you can book prices in USD: Cairo
• Enter inside The Third pyramid cost 5 $ per person
• Enter inside The Great pyramid cost 25 $ per person
• Solar boat by the pyramids cost 10$
• Felucca ride in the Nile 15 $ per person
• Lunch at a Traditional Egyptian Restaurant 10 $ per Person (Drinks Not included)
• Royal mummies room in Egyptian museum 10 $ per Person
• Felucca in Cairo Nile with launch 25 $ per Person
• Enjoy an unforgettable Camel Ride around great pyramids. 10 $ per Person
• If you want special camel ride tour 20 $ per Person(don't miss it)
• Felucca launch in the Nile 15 $ per person
• watch the spectacular Sound and Light Show at Giza Pyramids 30$ per person
• Enjoy having dinner on a Nile cruise with Belly Dancing Show 50$ per person
Extras optional not included you can book prices in USD: Luxor
• Sound & Light Show at Karnak Temple 30$ per person
• Luxor Hot Air Ballooning 120$ per person
• City tour with horse carriages.20$


• Prices shown are per person travelling. 'Twin/Double' prices per person apply when there are 2 people travelling, sharing a room. 4 stars hotel (B&B)
• The 'Single supplement' applies for single travelers who require their own room and needs to be added to the 'Twin/Double' price.
• *Above prices are WITHOUT international airfare
• * Above prices are applicable all year: except for the Easter and Christmas periods.
• Easter and Christmas Supplement 10%
• Payment Policy
Reservations should be made as early as possible to book the desired Egypt tour, spaces will be secured upon receive a deposit of 10 %, This deposit forms part of your final payment. Deposits can only be made by credit cards, Pay pal, wire transfer and or Western Union
• Children Policy
0 - 01.99 Free of Charge
2 - 5.99 pay 25% of tour price
6 - 11.99 pay 50% of tour price
12+ pay full tour price as per adult person
If your tour package includes airfare then an extra charges for your children may apply.
• Booking confirmation & Vouchers:
An official booking confirmation voucher will be sent to you once your booking is confirmed & your deposit is received.
• Tipping
It is a customary attitude for expressing ones satisfaction of good services rendered to him by staff on duty with him. We advise if you are willing to offer it, this would be great and if not, you are not obliged to do it.
• Group Quote Request:
• How do I request a group quote from (travelishtours.com)?
Just send us Email requests@travelishtours.com.
• Be prepared to provide your travel dates, number of seats, departure and arrival cities for any flights. Do you have a specific budget, flexible dates/times or any other specific requirements? Let us know. Your Groups Specialist who will contact you within 24 hours.
• Group: According to airline standards, a group consists of 10 or more individuals traveling together.