Overview
---
Have 5 days trip with travelishtours.com , visit The Colored Canyon, St. Catherine's Village, Sheikh's House, Wadi Tal'a, Wadi Shag, St. Catherine Monastery & Ein Hudra.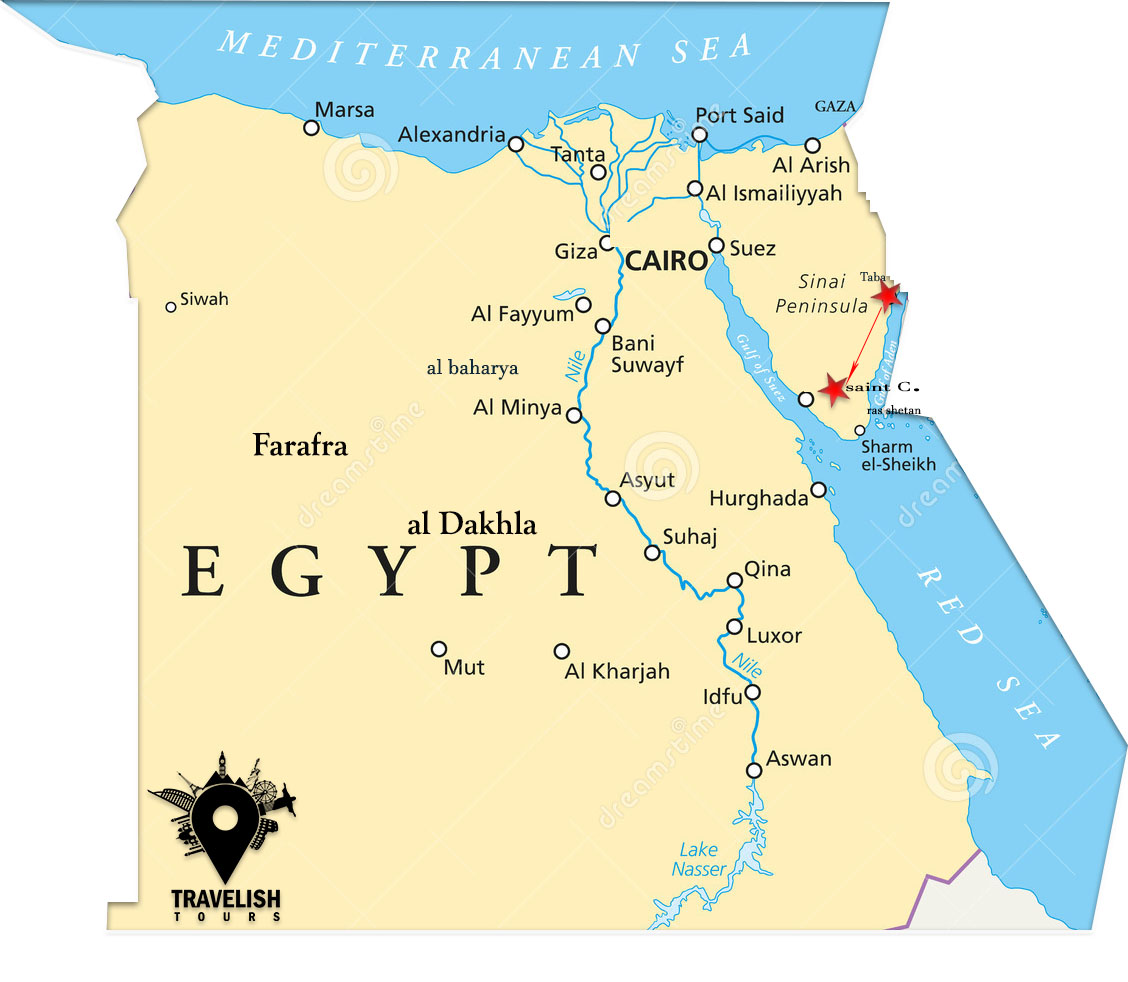 name:

Biblical Sinai trek 5 days from Taba

Duration:

5 day
you will visit
---
St. Catherine ,Colored Canyon,Sheikh's House, Wadi Tal'a, Wadi Shag
Taba
Sinai
Colored Canyon
St. Catherine
ITINERARY
---
ITINERARY (Click To Show)
cairo
Day 1:
After crossing the border at Taba, you pack our gear on Jeeps and drive towards "The Colored Canyon", where we hike through the colorful gorge. Then we drive to St. Catherine's Village, where we have lunch in the local Bedouin Restaurant. Our gear is taken to the local Sheikh's House, where it is being loaded on Camels that will accompany us during the Sinai-Trek, just like in Biblical times. A short hike on some ancient camel-roads brings us to a Bedouin Garden, where we spend the night.
Day 2:
Hike through Wadi Tal'a, where many Palm-Trees can be seen. A steep ascent through Wadi Shag brings us to a natural spring, where, in years with sufficient rain, there is a swimming opportunity. Then we climb through the narrow gorge of Wadi Sagr, after which we set our camp in a Bedouin Garden nearby.
Day 3:
In the morning we visit the Bedouin Holy Site Sheikh Santa, which gives us an insight to the way holy places were attended in Biblical times. Then we continue on a well-frequented Camel-Road to Wadi Tinya ("The Wadi of the Figs"). Another well-built road brings us up Jebel (Mt.) Abbas Pasha. An ancient path, used also by the Byzantine eremites brings us to our next campsite, in a Bedouin Garden as well.
Day 4:
Today we ascend the famous Mt. Moses (the famous mount of God) where Moses received the Ten Commandments over 3000 years ago. But we climb it from behind, on a less known route, which enables us to see some ancient hermitages, dated back to the times of the first Christian monks. Except for the majestic landscapes, this area enables us to understand the roots of Monotheism and Christianity. After three hours climbing, we will be enjoying and experiencing the unforgettable experience for the sun rise from the most spiritual place.
Day 5:
We descend Mt. Moses on the "Stairs of Repentance" (Ca. 4000 stairs) to visit the St. Catherine Monastery. This monastery is the oldest continuously active monastery in the world, and hence famous for its large rare collection of ancient icons and manuscripts dated back to the sixth century.We will also be able to visit the traditional site of "The Burning Bush" and "Jetro's Well". Then we drive back to the village, where our camels await us with our luggage. On our way down toward the Red Sea we can visit the "Rock of Inscriptions" where pilgrims left their marks during centuries, and also view the Oasis Ein Hudra (Biblical Hatzerot?) from an Observation-Point nearby. In the afternoon, drive back to the border.


inclusions
---
Meet & Assistance in Taba board gate (Egypt side).
All mentioned tours.
Entrance fees and Egyptologist tour guide for tourist places (the guide language up to request).
Lunch during tours.


exclusion
---
Visa and Taba Board Taxes.
Extra service, food, beverage,
Optional trips not mentioned in the itinerary,
Tipping Kitty


extra
---
Taba
Sinai
Colored Canyon
St. Catherine
• Prices shown are per person travelling. 'Twin/Double' prices per person apply when there are 2 people travelling, sharing a room. 4 stars hotel (B&B)
• The 'Single supplement' applies for single travelers who require their own room and needs to be added to the 'Twin/Double' price.
• *Above prices are WITHOUT international airfare
• * Above prices are applicable all year: except for the Easter and Christmas periods.
• Easter and Christmas Supplement 10%
• Payment Policy
Reservations should be made as early as possible to book the desired Egypt tour, spaces will be secured upon receive a deposit of 10 %, This deposit forms part of your final payment. Deposits can only be made by credit cards, Pay pal, wire transfer and or Western Union
• Children Policy
0 - 01.99 Free of Charge
2 - 5.99 pay 25% of tour price
6 - 11.99 pay 50% of tour price
12+ pay full tour price as per adult person
If your tour package includes airfare then an extra charges for your children may apply.
• Booking confirmation & Vouchers:
An official booking confirmation voucher will be sent to you once your booking is confirmed & your deposit is received.
• Tipping
It is a customary attitude for expressing ones satisfaction of good services rendered to him by staff on duty with him. We advise if you are willing to offer it, this would be great and if not, you are not obliged to do it.
• Group Quote Request:
• How do I request a group quote from (travelishtours.com)?
Just send us Email requests@travelishtours.com.
• Be prepared to provide your travel dates, number of seats, departure and arrival cities for any flights. Do you have a specific budget, flexible dates/times or any other specific requirements? Let us know. Your Groups Specialist who will contact you within 24 hours.
• Group: According to airline standards, a group consists of 10 or more individuals traveling together.